Summer is finally here which means it's time to get out the swimsuits. Is your swimsuit cute and current? Do you even own one?
Many of us are so terrified of looking fat in a swimsuit that we put off buying one, indefinitely.
The whole swimsuit thing becomes a vicious circle. When the occasion arises that you actually need one, (i.e. you are invited to a friend's pool or cottage), you end up dragging out some boring, old bathing suit you've had in your closet for years. How frumpy does that make you feel?
Buying a swimsuits that flatters your figure is challenging, especially over 40, but you can look slimmer than you think by knowing a few little tricks. Here are 5 great ways to look slim and feel fabulous in a swimsuit:
Get the Right Size
This is one time it's really important for you put your vanity aside and forget about the size tag.
Womens bathing suits and their stretchy nature hug your curves, so if a bathing suit fits too snug it can really squeeze your flabby bits and make you look heavier than you are.
Going up one size is always an easy fix. No one will notice and you'll avoid looking stuffed into your bathing suit.
Here are two great fitting styles from nordstrom:
The first is this pretty blue paisley patternws one-piece – The Festival Tankini.
Second, this stunning orange one is the conundrum one piece.
Take Advantage of Draping and Ruching
Some women naturally gravitate towards bathing suits with draping or ruching and for good reason. They realize that soft folds of fabric at the midriff are an excellent way to camouflage a midlife jelly belly.
A one-piece bathing suit with this kind of detail, combined with a good tummy panel in the front to hold you in, works like magic to slim and tone.
This Coral Madness Rialto swimsuit is a good example of this. It looks great either way, if you have a bit of a pot belly or none at all.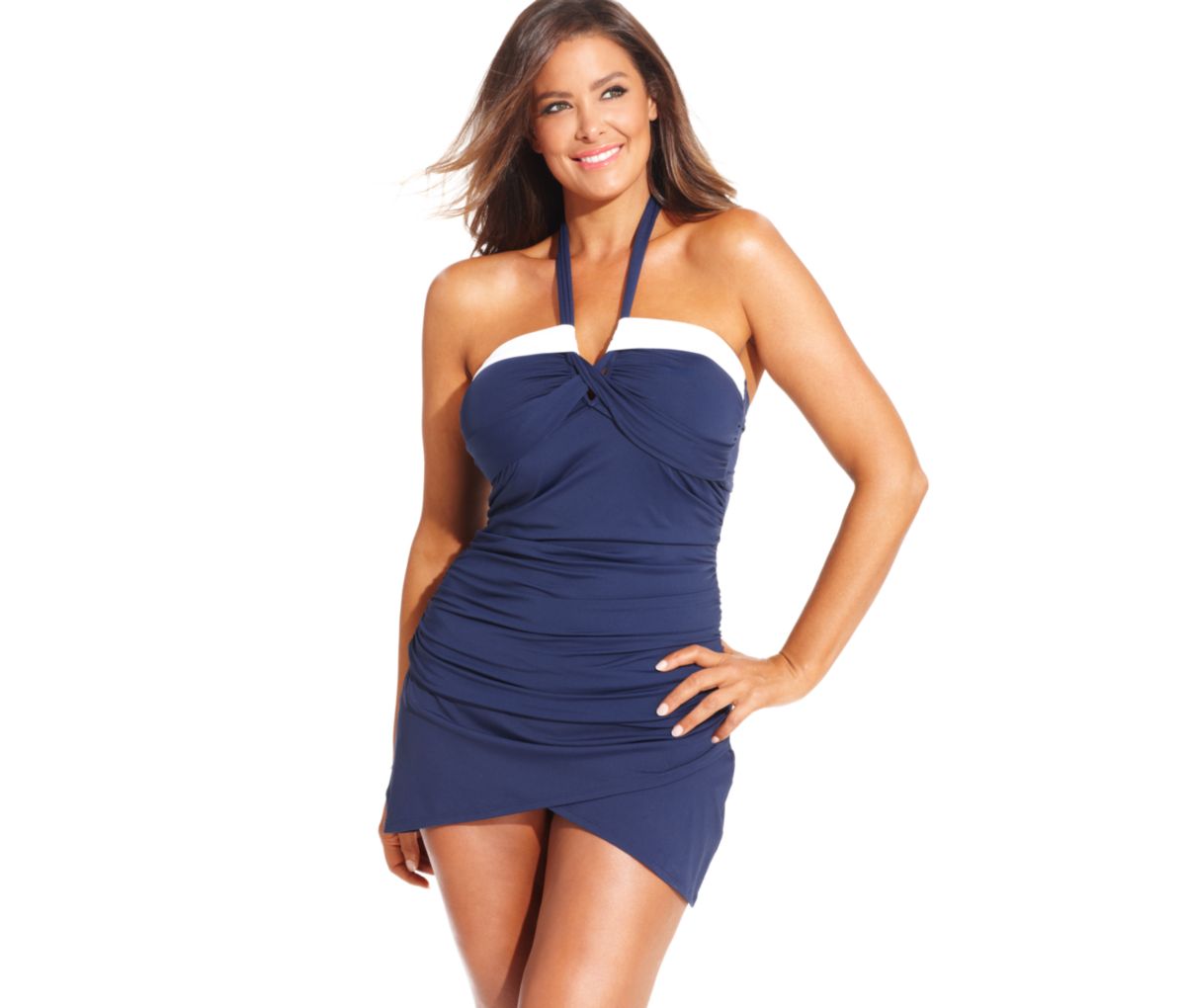 This  Anne Cole Cris Cross Tankini also has a lot of ruching that is very flattering to fuller figures.
Wear an Optical Illusion Print
If you are not feeling that great about prancing around in a swimsuit, then you will love these magical swimsuits.
Designers have gotten very clever about choosing fabrics that trick the eye and make it seem like there is draping where there is not. These interesting fabrics whittle the waist and trim the hips.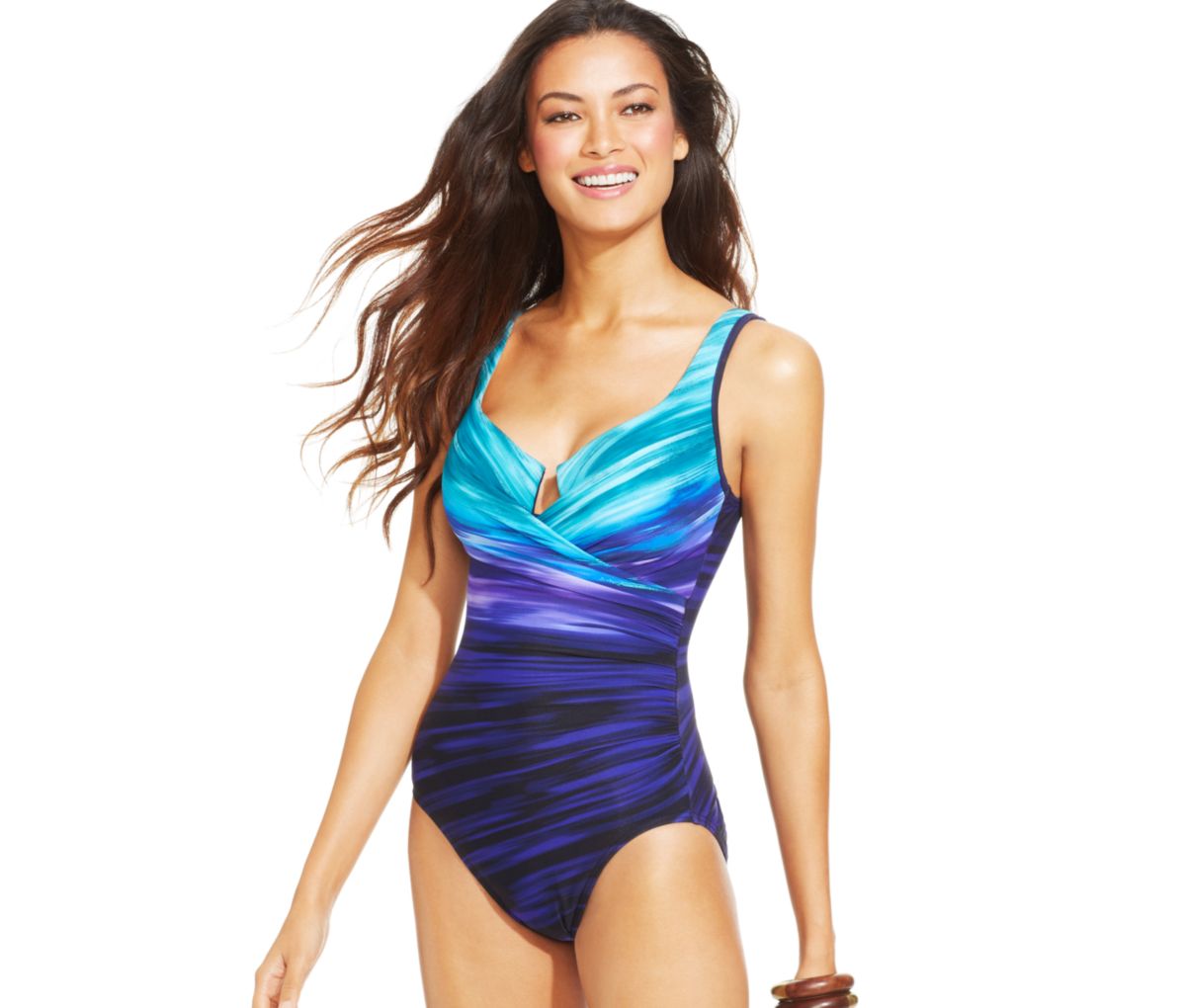 This Miracle Suit Deep End suit is proof of that.
Color blocked panels of fabric also shape your figure in dramatic ways. This Spectra Band it one-piece has real sex appeal.
Drop Pounds by going Dark
Color counts when it comes to where you place it. Dark colors shrink the area they cover, while light and bright colors enlarge.
By using color strategically, you can magically shrink the parts of your body that are a little more "obvious".
For example, this black Miracle Suit Escape Garland Cheap One Piece Swimsuits with a floral motif slims the whole body and draws the eye to your waist and away from your tummy.
A bathing suit with a darker color on the bottom and a bright or light color up by your bust will help even out your shape and make you look more balanced.
Take a look at this Santa Fe Tankini. You don't focus on the bottom half because you are so busy being attracted by the colorful top half.
Choose a High Cut Leg
Here's a simple fact. If you look taller, you will look slimmer.
One way to look taller is to visually trick the eye by exposing as much of your leg as you can.
Boy cut short style bathing suits that cut straight across the top of your leg like shorts may cover well, but the reality is they actually make you look shorter and wider.
Go for a bathing suit like this Miraclesuit Escape One piece. It's high at the hip to create the illusion of legs that go on for miles. (The darker bottom half trims the tummy, too)
A little heeled sandal never hurts either!
Here are a few more bathing suits that are pretty and slimming.
Do you own fashionable bathing suits? Be Brave. Send me a photo in your swimsuit and I will post it! I'm showing one-pice suits because they are very popular but there is no reason you can't wear a bikini over 40!
Source: http://www.fabulousafter40.com/5-ways-to-look-slim-in-a-swimsuit/