If you like fur but don't wanna choose a womens fur coat, then pay your attention to various winter coats with a chic detail such as a fur collar. No matter what coat type you'll pick up, it makes your outfit trendy and stunning and of course warms you up. We've already told you how men can wear fur collar coats, so here's fashion tips how women can combine this type of coat and look elegant during the whole winter season.
Pants And Leggings
Before you start to pair your coat, you need to decide what length, color, print your coat will have. If you aren't ready for bold clothes combinations, then pick up neutral color coats (for example, gray, black, brown or navy blue) and mini or midi length. To create casual looks you can take a midi monophonic belted coat with fur collar and mix it with a white turtleneck sweater or black shirt, skinny jeans or black pants (for formal looks you can take flare or wide leg trousers) and neutral shoes or boots (you can take ankle, high or even over the knee ones). Add a bright accessory to this outfit such as a purple crossbody bag or a patterned scarf and you'll look original and more stylish. For those who wanna something special, I offer to pair your bright colored coat with printed clothes, for example, polka dot button down shirt, geometric or other print crop trousers and fur boots.
1. With beige shirt, skinny pants, leopard shoes and brown bag
2. With black shirt, skinnies, over the knee leather boots and big bag
3. With denim shirt, flare pants and bag
4. With gray loose shirt, distressed jeans and mid calf boots
5. With gray shirt, black skinnies, suede boots and purple bag
6. With jeans, printed scarf and boots
7. With leggings and gray ankle boots
8. With light brown shirt, womens leggings, ankle boots and brown small bag
9. With polka dot shirt, printed trousers and purple bag
10. With white blouse, brigth blue trousers and blue bag
10. With white sweater, distressed jeans and gray shoes
Skirts And Dresses
To make your outfit more feminine choose a fitted colored coat and pair it with a mini or knee-length dress, black tights, high boots and a clutch. For creating smart casual outfits find an olive green knee-length pea coat women with a large fur collar and combine with an A-line gray midi skirt, turtleneck or shirt, leather ankle boots and crossbody printed bag.
11. With black shirt, midi skirt, heeled boots and crossbody bag
12. With dress and white shoes
13. With dress, black tights and high boots
14. With floral dress, hat and black boots
15. With midi dress and two color shoes
16. With mini black skirt and printed scarf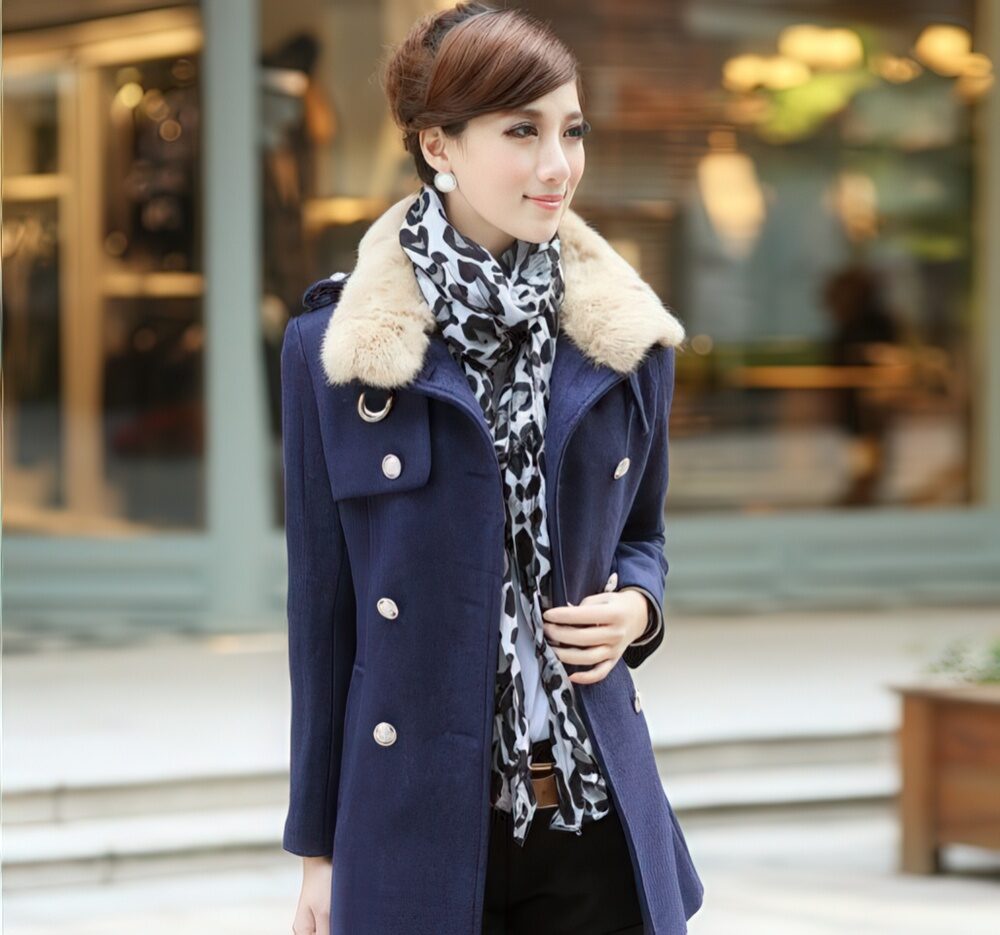 17. With orange blouse, red midi skirt and scarf
18. With patterned mini dress and big bag
19. With shirt, mini skirt, black tights, mid calf boots and leather bag
20. With striped shirt and leather skirt
21. With white dress, black tights and ankle boots
22. With white dress, high boots and clutch